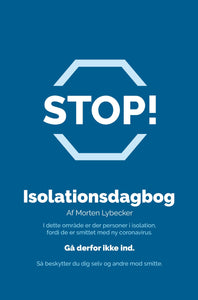 Isolationsdagbog

En pandemi raser. Udenfor falder verden fra hinanden. Mennesker bliver syge og dør. Indenfor sidder forfatter Morten Lybecker i corona-isolation – alene og bange.

Hvor går man hen med sine tanker, når man er spærret inde? Hvad gør man når man har meget at fortælle, men ingen at fortælle det til?

Svaret er en isolationsdagbog. Umiddelbart skulle man ikke tro at der var meget at fortælle om fra et lukket hjem, men tag ikke fejl, det udmunder sig i en absurd samtale mellem forfatteren og isolationsdagbogen, hvor forfatteren tager Isolationsdagbogen med på en rejse gennem minder, fordomme og ofte absurde betragtninger.

Tag med på en 7-dages rejse – fra store grin til rørende minder – samlet i det perfekte dagbogsformat.

Forfatter Morten Lybecker har tidligere stået bag den succesfulde blog "Mit liv som pendler", samt spillet i bands som Blazing Eternity og :Of the wand and the moon:

OBS!!!
Bogen er officielt ude den 4 december. Alle forudbestilte eksemplar hos Mastermind vil være i posten den 6 december.