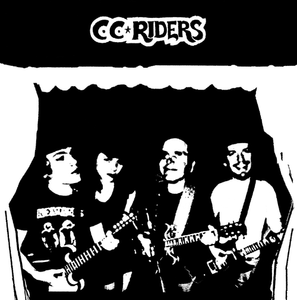 ecently moved to Memphis from Los Angeles, was an ex-member of Fireworks and The Necessary Evils. Jay Reatard (Reatards) and Alicja Trout (ex-Clears, Mouserocket) were just getting Lost Sounds off the ground when Jeffrey asked them to round out the C.C. Riders lineup.
In 2001, Alicja and Jay recorded C.C. Riders' self-titled CD. The CD-R was released on Trout's Contaminated label; it was hand numbered and limited to only 100 copies. Among the album's highlights is a flushed out version of Evans' stellar original, "Long, Long Ballad of the Red-Headed Girl" "(The song) has a walk-down chord progression," states Evans. "The song also appears on (the amazing half spiel/half song acoustic record) I've Lived a Rich Life. It was much more orchestral with C.C. Riders. I don't know if I could write a song like that today. We just banged that C.C. Riders record out. We got what we got." 
C.C. Riders played their last shows and wound down around 2002. 
Spacecase Records has pressed up 500 vinyl copies of this C.C. Riders reissue LP. Outside of the Contaminated CD-R release in 2001, this is the only other pressing of the album available.