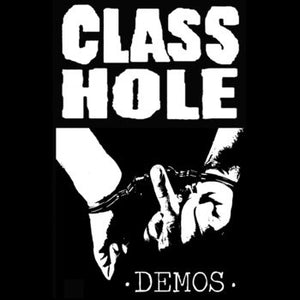 Review from "Death has no mercy"
Classhole are a New Orleans based hardcore band that do real, old school dirty hardcore. This has more in common with Black Flag, Poison Idea and Negative Approach than it does with modern metallic sounding crunchy hardcore. Nihilistic, full of anger and fast and dirty sounding, this reminds me of everything I loved about hardcore in the first place. There are a few live clips of them on Youtube which are well worth checking out, their gig at Creepyfest in New Orleans is definitely worth a watch, bodies go flying and trash cans get thrown about, looks like everyone is having a wild old time. These guys are a great live band, very powerful. The demo is cassette only and can be ordered from the band themselves by dropping them an email. Details are on their Facebook: 
Or on their Bandcamp where you can also listen to a few tracks for yourself:
The song titles will give you an idea of what to expect, songs such as Frustrated, Full Of Hate, Right Between The Eyes, Worlds Gone Weak. This has a dirty, sludgy vibe as you might expect from a NOLA band so if you are a fan of bands like Eyehategod or Noothgrush this is worth checking out too but make no mistake this is straight up hardcore. I cant wait to hear a full length from this band, this is real hardcore for the people on the fringe of society and I'm personally glad to see a band doing it right. Check these guys out if you like raw and angry hardcore that makes you want to punch your boss and say fuck you to the world.