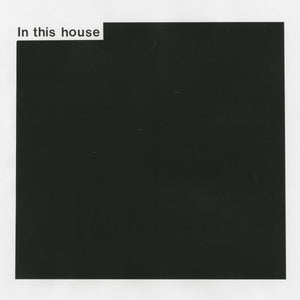 Review from https://beatsperminute.com by Ana Leorne

Seems fitting that Lewsberg (named after Dutch author and poet Robert Loesberg) should return in such a strange spring, treating us to a collection of songs that are simultaneously uncomfortable and compelling.
In This House arrives two years after the band's self titled debut, and even though it doesn't come as a huge departure from what they'd already been experimenting with, it showcases a refinement and vehemence that will certainly contribute to a wider export of their sound. The album hurts nicely in that obsessive proto-punk sort of way, and despite this approach being nothing new, the Rotterdam quartet make it sound too honest not to be taken seriously. In fact, rawness proves to be Lewsberg's most valuable asset, since they don't seem overly concerned with possible accusations of open pastiche or blunt regurgitation of times past.
Opener "Left Turn" is a direct knife in the brain, unashamedly borrowing from Velvet Underground's White Light/White Heat era by insisting on free-form entrancing noise combined with Van Vliet's spoken word, heavily reminiscent of John Cale on "The Gift". But it's also important to note that no corner is oversaturated: the glorious guitar screeching on "Cold Light Of Day" isn't ornamental, but necessary; the vocals aren't overbearing nor come across as forced, and they don't invade where they're not needed.
There's also room for sweeter, less corrosive moments like "At Lunch", with indie movie ending credits vibe. This makes for a nice breather before "Trained Eye", the absence of vocals granting the track a nice interval status.
A slight Patti Smith Group meets Television turn in single "From Never to Once" reveals a surprisingly balanced example of how kraut can be pop while wrapping the ensemble in a thick fog, for it could never to be associated with sunshine — except maybe for that sick, feverish heatwave that sends shivers down your spine and you mistake for a bad case of flu or drug withdrawal. This mood fits with "The Door", a dark lullaby that seems to rock the addict (or the hopeless romantic) into oblivion and hypnotise them out of pain. The feedback rips, leading up to the solo, visceral as plasma running freely from a self-inflicted wound you vowed not to let heal lest you forget you're still alive.
A complete ambiance shift is brought about by "Through The Garden", sounding like Lou Reed as leading vocalist of Talking Heads and redoing "European Son" for the late 70s. A proper interlude arrives just before "Jacob's Ladder", appropriately named after Adrian Lyne's 90s psychological horror film. This track also constitutes the first shift in lead vocals, as bassist Shalita Dietrich takes over for what transpires as a sombre revival of Paisley Underground. "Standard Procedures" comes to wrap it all up in a sonic stimulus as bleak as post-modern static TV appropriation; for when everything has been said and done, when every colour and every sound have been unleashed, all you get is black and interference, neutral and unbothered noise, disdain and acceptance.
In a time of seemingly inconsequential reinvention of styles and trends, with punk revival slowly but steadily taking over that bright neo-psychedelic wave, it's hard to find the authenticity we had once identified as the most important piece of a music movement – especially since cynicism has long become out of control. For Lewsberg, this genuine quality seems to arrive naturally, as if there were no other viable options; so "In This House" comes not only as its testimony, but also as hope regarding the overall panorama: it's when indie ceases being blasé that it shines in all its power.
80%