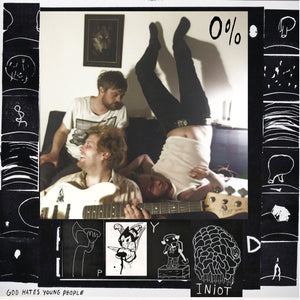 0%
-
God Hates Young People
Every song has its essence so why fuck with it? On their album debut, the Copenhagen three-piece 0% leaves the mumbling and fumbling around to the indie kids and goes straight for what it's all about: Releasing punk and garage rock songs oozing with vibes that will force you to nod your head and dive into that always tempting mosh pit.
Whether you just love that more sluggish, brown and worn out punk rock or is expecting a smack on your shiny face, 'God Hates Young People' provides. Not afraid of digging into either dusty rock ballads or moments of chaotic metal the album shows a band with a wish to push beyond punk and rock conventions without forgetting those instantly intuitive songs.
Despite releasing their album debut don't expect newcomers to the scene. Peter Bonneman played in the notorious Danish punk bands Amdi Petersens Armé and Gorilla Angreb, Per Gerhard is part of the dope pop/punk rock duo Yahowa while Peter Larsen just released a debut album as part of the noise punk trio The Monoliths, also out on Mastermind Records.
Limited 300 copiesListen
http://0percent.bandcamp.com/album/god-hates-young-people