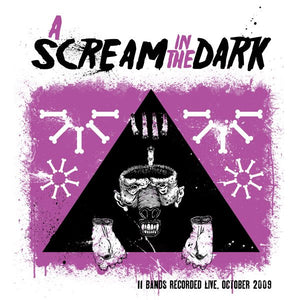 A1

Melting Walkmen –

Desert Land




A2

Chainsaw Eaters –

Hands Of Relief




A3

Joy* –

A Scream In The Dark




A4

Amphipods –

The Man In The Shadow




A5

Nuclear Family (7) –

Deformed Babies




B1

Shocking White –

Promises Of The 90's




B2

City Kill, The –

Imitation Moon




B3

Obstacles –

Insurgents




B4

Trust (9) –

Bison




B5

Cola Freaks –

Dødt Batteri




B6

Skind Og Ben –

Hævn
267 handnumbered copies.
Includes folded poster insert.
Recorded live at Huset i Magstræde on the 16th and 17th of October 2009.
Inspired by Concert of the Moment and Nosferatu festival, this release documents the darker side of the underground scene in Denmark. All of the tracks are live recordings from the 'A Scream in the Dark' festival.