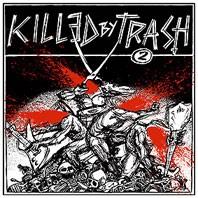 Here we go again feeding your quenchless appetite with another hep slab o' wax from P. TRASH. Being the sweet, loveable people we are, we thought that we should give you, the smalltime recordcollector, another chance to listen to an international bunch of contemporary bands doing some killing versions of songs by obscure bands from the Stone Age of Punkrock. By continuing in our fine footsteps we can hereby offer you 20 more trashy songs on our second KILLED BY TRASH compilation with a fine lineup too, we thinks... but what beautiful punk it is.

Track list
VICIOUS CYCLE - "I Hate Cops" by the Authorities
LIVE FAST DIE - "I'm gonna punch you in the face" by Child Molesters
AGGRAVATION - "You Make Me Sick" by The Satans Rats
ORIGINAL THREE - "I Rock I Ran" by Toxin III
WASTED PIDO - "Neutron Bomb" by The Controllers
STATUES - "Television Sect" by Sods
RETAINERS - "Drugs" by Riot 303
RAD KIDS - "Neon Light" by Revenge 88
FASHION! FASHION! AND THE IMAGE BOYS - "Break Out Tonight" by U-Boats
BRUTAL KNIGHTS - "Rather See You Dead" by Legionaire's Disease Band"

KILLERLADY - "Learn To Hate In The 80's" by Bobby Soxx
CHEAP THRILLS - "I'm Useless" by The Queers
FUCKED UP - "Job" by Nubs
COLA FREAKS plus ALICJA TROUT - "Surfin' With Steve And E.D. Amin" by Helen Keller
CPC GANGBANGS (Feat. A-Claude) - "L.A. Sleaze" by Reactors
PRESS GANG - "Matinee" by Kraut
SUDDEN WALKS - "Mom's A Fake" by The Stiphnoyds
KAMIKAZE TRIO - "Telepathic Love" by Wipers
BUD WHITE - "I Beat You" by Vicious Visions
ANTI YOU - "What's Your Problem?" by Circle Jerks.