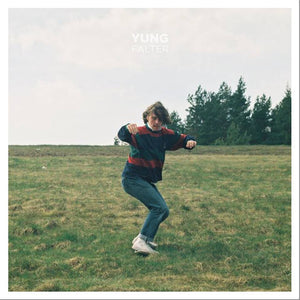 Yung - Falter LP.
Yung is fronted by 20yearold
Mikkel Holm Silkjær (guitar, vocals) and hails from the
North of Aarhus, second largest city in and, locals would say, current punk rock capital of
Denmark. In Yung, Mikkel has teamed up with friends and Snaredrum members Frederik
Nybo Veile (previously in Emenkaya) on drums and Tobias Guldborg Tarp (previously in
The Conquering Light of Flora and Fauna) on bass.
Despite being three relatively down to earth guys, the Yung trio play their songs with a
childlike
carefreeness and feverish energy, leaving little room to catch your breath. Their
first proper studio album Falter showcases Yung growing out of Mikkel's teenage dreams
into the harsh reality of what is everyday life of young adulthood.
"Those days are gone/And they will never come back/
You just have to realise that pain is a part of life/Those days will never come back"
("Don't Cry").
The songs on Falter both serve as a vehicle for and an escape from the bewildered
frustration of having to deal with life's treadmill. Trying to find a tolerable and meaningful
place in society, wasting time at useless jobs in order to enjoy whatever little freedom that's
left to hang out with friends and, first and foremost, devote as much spare time to music as
humanly possible.
"Will I ever accept their cause/Expensive cloth that's all they've got/
A bunch of minds but no thoughts/A staged life that's all they've got"
("Immaculate Independence")
Indeed, Mikkel is the type of guy who'd much rather talk about his appreciation of other
people's music than his own; his love for the punk and noise scene in Aarhus which he was
born out of as a former member of Urban Achievers and Happy Hookers For Jesus; an
endless admiration for the local cult legends Cola Freaks; the bands he's going to release on
Shordwood Records, the DIY label he coruns
with his flatmate Casper. All of these things
are part of the inspiration that makes Yung sound the way it does.
Coming from a musical family, Mikkel rejected any musical involvement at first, essentially
not wanting be like his dad. Eventually he caved and coformed
the hardcore band Urban
Achievers and started writing songs. As his songwriting skills gradually improved, he grew
bored with just playing 'punk' and thus his ambitions evolved into forming Yung. Always on
the move, Yung is a gateway to renew expressions and challenge preconceived ideas of
how things are supposed to be:
"For me, Yung has always equalled total freedom," says Mikkel. "I don't want Yung to be a
band that you can put certain labels on. I wish for it to be a project that can principally go in
any given direction".
The songs on Yung's debut cassette was released on the aforementioned label and were
mostly skeletal home recordings randomly recorded in GarageBand. In this light, it is quite
unsurprising that at the present time Mikkel has allegedly written "about 80 new songs"
which he is more than ready to start recording.
On Falter, Yung has moved out of the bedroom and recorded in Snaredrum's studio in the
long and dark winter days of January 2014. The album was mixed by Patz Koci and
mastered by the Godfather of Danish postpunk
Peter Peter.
Listen
https://yungdk.bandcamp.com/album/falter
http://yungbandstuff.com/
https://www.youtube.com/watch?v=PIZZvUwgWR8